Is the USB storage device not detected in your Firestick? Well, you are not alone. It's a common problem that a lot of Firestick owners face.
I'll share a simple step to make Firestick recognize your USB drive in less than two minutes. The guide below works with USB storage, including external hard drives, USB pen drives, etc.
So let's see how to fix external storage not showing on the Firestick problem.
No USB Storage Detected on Firestick
If your Firestick does not detect USB storage, unplug it and connect to a PC. Open file explorer or finder and format the USB Drive in FAT32 format. Once done, connect it back to Firestick, which should work now.
Format Your USB Drive
For Firestick to detect a USB drive attached to it, it must be in FAT32 format.
There are various formats like NTFS, FAT, APFS, etc. If your USB storage is formatted in a different format other than FAT32, then that is the reason why Firestick doesn't detect it.
Standard pen drives up to 2GB will be in FAT16, 4GB to 32GB in FAT32, and 64GB and above in exFAT. You should reformat it to FAT32 for it to work with Firestick.
The quickest way to fix the issue is to format your USB drive in FAT32.
Connect the USB drive to your PC.
Open the file explorer or finder and select the USB drive
Right-click on it and click on Format
Under the File System type, make sure it is selected as No USB Storage Detected on Firestick
Click the format button and wait for it to complete.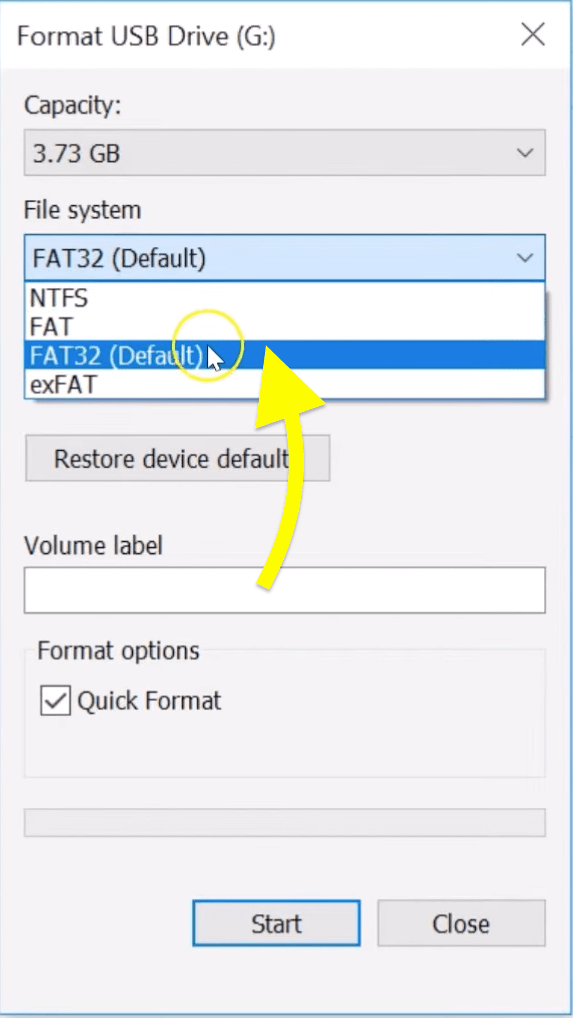 Once formatted in FAT32, you may reconnect the Pendrive to Firestick, and it should work without any issue.
Make Sure Your USB Drive Is Supported By Firestick
Firestick supports not all USB drives. Ensure your USB storage device meets the requirements below for it to work on a Firestick.
Pendrive formatted to FAT32.
The size of the USB storage is no more than 2TB. Ideally, less than 128GB
Even though USB 3.0 is better, USB 2.0 is also supported by Firestick as it has a dedicated USB 2.0 port. For better speed, USB 3.0 is recommended
If you have used a composite or component to HDMI converter to connect the Fire Stick to a non-smart TV, then try connecting it without the connector to a different TV and see if it picks up the USB storage device.
Try Connecting A Different USB Storage To Firestick
We need to make sure the actual issue is with Firestick itself. Try connecting a different USB storage device such as an external hard disk or a USB pen drive to your Firestick and see if it detects it.
If your Firestick detects other USB storage devices, the issue is with your USB storage device. Maybe you need to format it to FAT32, or your USB storage might be corrupted.
Or, if your Firestick does not detect any other USB storage device, move to the next step.
Soft Reset Your Firestick
If you're sure that your USB drive is formatted in FAT32, meets the requirements, and is still not detected in Firestick, it is time to perform a soft reset.
Remove both storage and power cable from your Firestick
Wait for 30 seconds to 60 seconds
Now connect the USB drive and power cable to your Firestick and turn it on
Head to Storage options under Settings to find a newly connected USB storage device.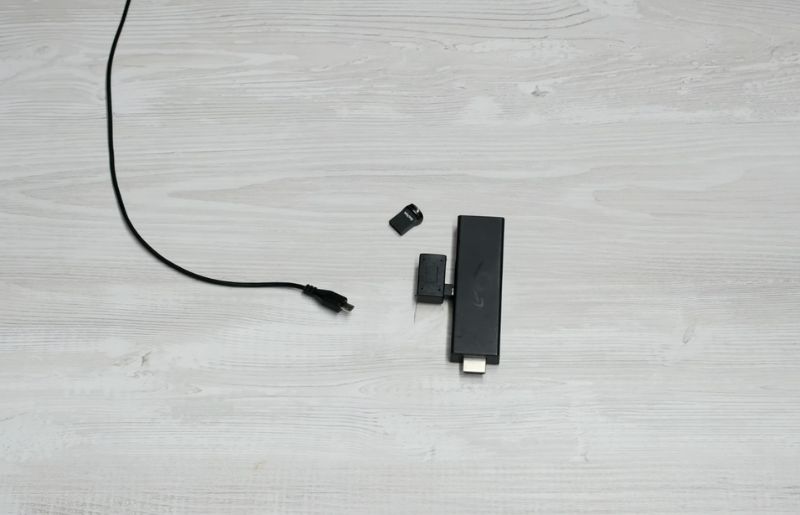 Update Firestick OS
There are chances that your Firestick won't detect USB storage devices if it is outdated. So you need to ensure it's running on the latest version by checking for updates.
Grab your Firestick remote and head over to Settings
Under settings, click on My Fire TV.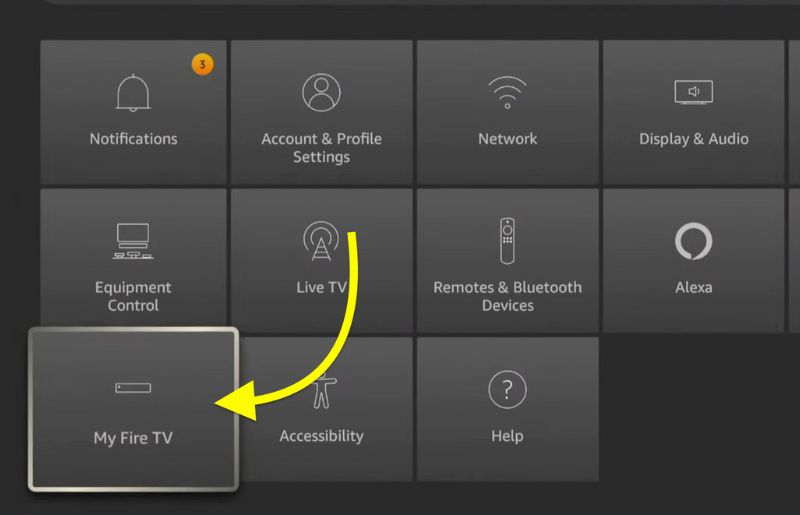 Click the About option.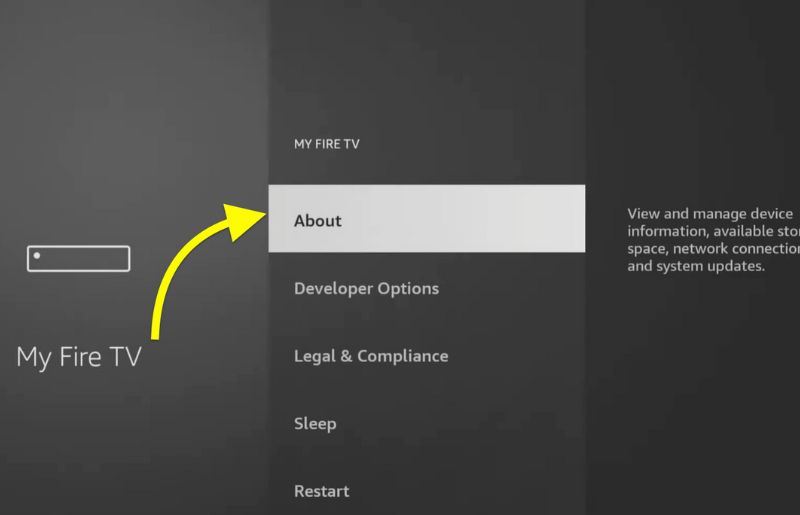 Click on the Check for Updates button to check for a new update.
If an update is available, a button will instantly pop up, saying Install Update.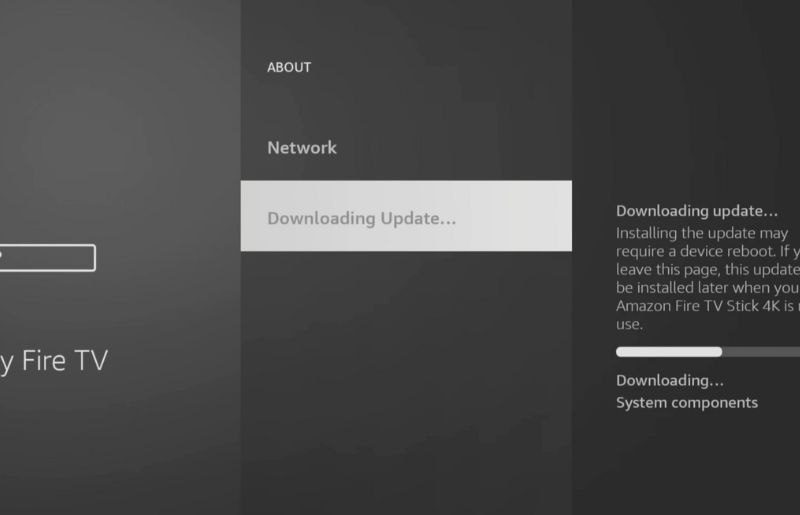 Click the button and wait till it downloads the file. The Firestick OS/Firmware update process will take several minutes, depending on your network speed. Once updated, the Firestick will automatically reboot.
Do not power off Firestick during the update process.
Factory Reset Firestick
If none of the troubleshooting steps mentioned above worked for you, the last thing to do is the factory reset your Firestick. Factory resetting essentially resets every configuration and settings to factory default. After the factory reset, all your apps and data on your Firestick will be erased.
If you don't have the Fire TV remote, you can factory reset Fire TV without remote, too.
Grab your Firestick remote, open Settings, and navigate to My Fire TV.
Click on the option Reset to Factory Defaults.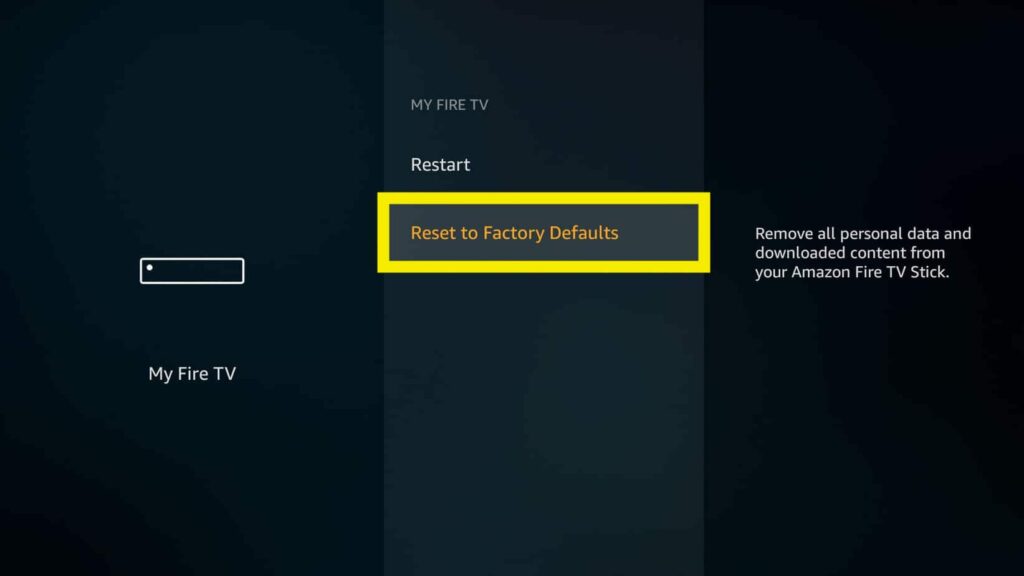 The factory resetting process will take several minutes. Wait till it gets completed. Also, note not to turn off Firestick during the factory reset process.
Once completed, you will have to go through the setup process again.
Frequently Asked Questions
How do I get my Firestick to recognize my USB?
To make your Firestick detect USB, connect the USB to a PC and format it in the FAT32 file system. Now connect it back to your FIrestick, and it should detect it now.
Why is my FireStick USB not working?
USB drive formatted in an unsupported format or failing to meet Firestick requirements are the two reasons why USB drive is not working on Firestick.
Wrap Up
Most of the time, your Firestick doesn't detect the USB storage device because it is not formatted in FAT32. The simple fix is to connect your USB storage device to a computer and format it to FAT32 format.
Let's quickly recap what we did to fix can't see Firestick USB storage:
Format your USB storage device to FAT32
Make your USB storage device meets the requirements to work with Firestick
Soft reset Firestick
Factory reset FIrestick