Clearing cache on your Firestick is one way to make it faster and free up some storage space.
If you are a Firestick user, you might have noticed that even after clearing the cache, a small amount of storage will still be shown as occupied by the cache files.
Say, for example, you cleared the HBO Max app's cache on Firestick just now and opened the app settings. After a few seconds, a small amount of storage space will still be occupied by the app's cache.
If your Firestick's clear cache option is not working or if you find cache files still takes space even after clearing them, then this article is for you.
Firestick Cache Not Clearing
Normally, a Firestick app uses a small amount of storage space for cache files even after clearing it. Most apps will instantly show cache file space in use as 16.38KB after clearing the cache.
After clearing the app's cache, it first goes to 0 and then quickly jumps back to 16.38KB. Well, this is normal and expected.
Now you might be wondering why this happens.
As per Amazon officials, this happens because the app might check for updates automatically or load files required for the app's operations.
The reason why a lot of people are concerned about the increasing cache size is that the Firestick's storage is relatively too low. But the point to note here is that 16.38KB is insignificant and does not make any notable difference.
A cache size of anything below 100KB is okay but even after clearing the cache, if the size of cache is more than 100KB, then that is something to be concerned about.
Follow the troubleshooting guide given below to fix Firestick clear cache option not working.
Fix Firestick Clear Cache Not Working [Cache Not Clearing]
To fix a Firestick where the cache does not clear, you need to power cycle it. Unplug the Firestick and wait for a couple of minutes. Now connect everything back and turn it on. Go to the app's cache settings, and it should work now.
Now let's take a deeper look into how to fix the cache not clearing problem on Firestick.
Power Cycle Firestick
The first thing to do is to power cycle your Firestick. It is a simple process in which we unplug the Firestick and let the residual power drain off.
Unplug your Firestick
Wait for a couple of minutes
Now put back everything and connect the Firestick
Head to App's cache settings and click the clear button.
This is the easiest way to fix a Firestick where it won't clear the app cache.
Update Firestick OS
If your Firestick runs on an older OS version, it might cause issues like cache not clearing correctly. The best way to eliminate the error is to update Firestick OS to the latest version.
Grab your Firestick remote and head over to Settings
Under settings, click on My Fire TV.
Click the About option.
To check for a new update, click on the Check for Updates button
If an update is available, a button will pop up instantly which says Install Update
Click the button and wait till it downloads the file. The Firestick OS/Firmware update process will take several minutes, depending on your network speed. Once updated, the Firestick will automatically reboot.
Do not power off Firestick during the update process.
Factory Reset Firestick
The last thing to do is to factory reset your Firestick. Factory resetting essentially resets every configuration and settings to factory default. After the factory reset, all your apps and data on your Firestick will be erased.
Grab your Firestick remote, open Settings, and navigate to My Fire TV.
Click on the option Reset to Factory Defaults.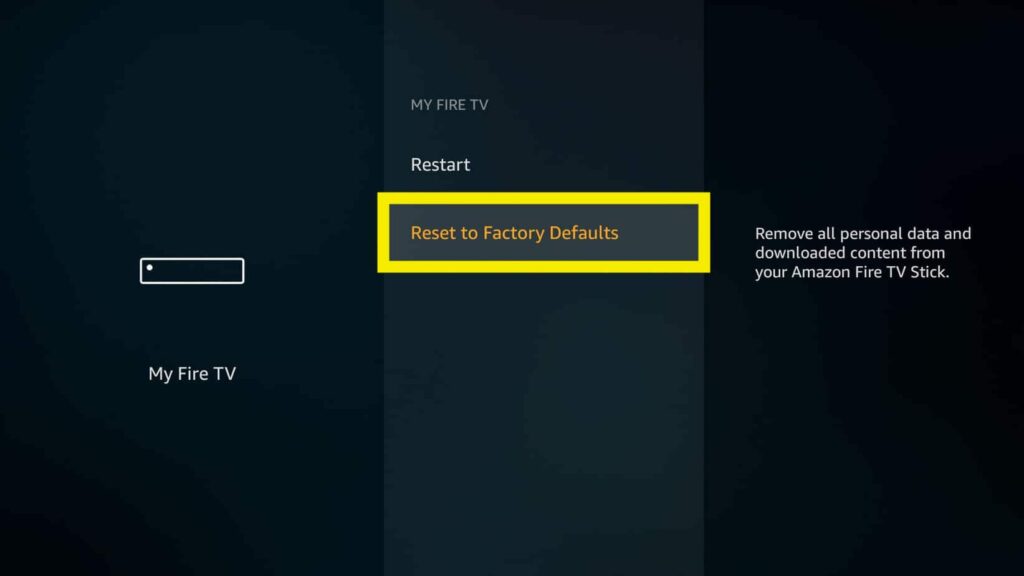 The factory resetting process will take several minutes. Wait patiently till it gets completed. Also, note not to turn off Firestick during the factory reset process.
You may also reset Firestick without the remote.
Once completed, you will have to go through the setup process again.
Frequently Asked Questions
Why does Firestick show cache even after clearing them?
It's normal for apps on Firestick to show some cache even after clearing them. Most people see 16.58KB of cache files still occupied. This happens because the app may search for updates automatically.
Does clearing cache speed up Fire Stick?
Yes. Clearing cache files on your Firestick will help to improve performance and efficiency. Cache files are those stored by respective apps to make app loading faster by storing specific small-sized files like image thumbnails in the local memory.
How do I force and clear cache on Fire Stick?
Head to Settings > Applications > Manage Installed Applications and find the app for which you want to force clear cache on Firestick. Click on Force Stop and then Clear Cache.
Is there a cache cleaner for Fire Stick?
Yes, you can use apps like TDUK App Cache Cleaner for Firestick to instantly all app cache in a single click.
Wrap Up
As Firestick's storage capacity is very low, people are concerned about the space occupied by every app. All the apps installed on your Firestick eat up some storage in the form of cache files. While cache files are great for improving the speed and efficiency of apps, they can quickly add up and occupy a lot of storage space.
Clearing the cache on your Firestick once in a while is considered good as you get rid of older files that are no longer needed. It will help you save some valuable memory on the Firestick device.
Let's quickly go through what we did to fix the cache not clearing on the Firestick issue.
Power cycle Firestick to fix cache-related issue
Update the Firestick software
Factory reset Firestick to default settings.