There is nothing worst than watching TV with delayed audio or lip-sync mismatch. Is your Vizio TV audio out of sync? Vizio TV sound delay is now a common problem that a lot of people face these days.
Vizio TV has a feature called Vizio Lip Sync, which will intelligently detect if there is delayed audio or lip sync mismatch and adjust the video playback accordingly.
So enough is enough. Let's fix the Vizio TV Audio out of sync problem in the next few minutes.
To Fix Vizio TV Audio Out Of Sync, head to TV Settings > Audio and find Lip Sync settings. Set the value to 0. Now set the Digital Audio Out option as PCM and change Picture Mode to Game.
Below are some troubleshooting tips to help you get rid of the delayed sound problem on Vizio TV.
Why Is Vizio TV Audio Out Of Sync?
Let's quickly run through some common reasons why your Vizio TV audio appears out of sync.
Misconfigured Audio Settings
Misconfigured audio settings are the number one reason why your Vizio TV audio is out of sync. When set incorrectly, you will notice a slight audio delay which ruins your TV-watching experience.
But the good news is that it can be easily fixed by changing a few audio settings of your Vizio TV.
Pending Vizio TV Firmware Update
If your Vizio TV has a pending firmware update that needs to be done, problems like TV screen flickering, incorrect lip sync, etc., can appear. Updating the firmware where should solve the problem in this case.
Incorrect Lip Sync or Digital Enhancer Settings
Did you know that Vizio TV has dedicated lip sync settings under the audio menu? If set incorrectly, the lip sync option will cause Vizio TV sound delay. It can be easily fixed by adjusting the digital enhancer and lip sync settings under the audio menu.
Glitches
Temporary software or hardware glitches may cause issues like sound delays, TV stuck on logo, etc. Power cycling your TV or factory resetting should solve the problem in most cases.
If your Vizio TV only has Bluetooth LE and you are using a Bluetooth transmitter to connect Bluetooth headphones or speaker, you may want to re-pair it and try again.
Fix Vizio TV Sound Delay
Now that you know the basic reasons why the sound delay occurs on your Vizio TV let's look at some troubleshooting steps to fix the problem.
Change The Lip Sync Settings
A dedicated option under the Audio settings will let to adjust the lip-sync if it is delayed.
This option on the Vizio TV lets you slightly increase or decrease the audio playback to sync it with the video. If a video is perfectly normal and you have changed the lips sync settings, then it will cause audio delay problems.
So all you need to do is to set the lip sync settings at zero. Let's see how.
Open Vizio TV Settings
Click the Audio setting option
Select Lip Sync
Set the value to Zero (0)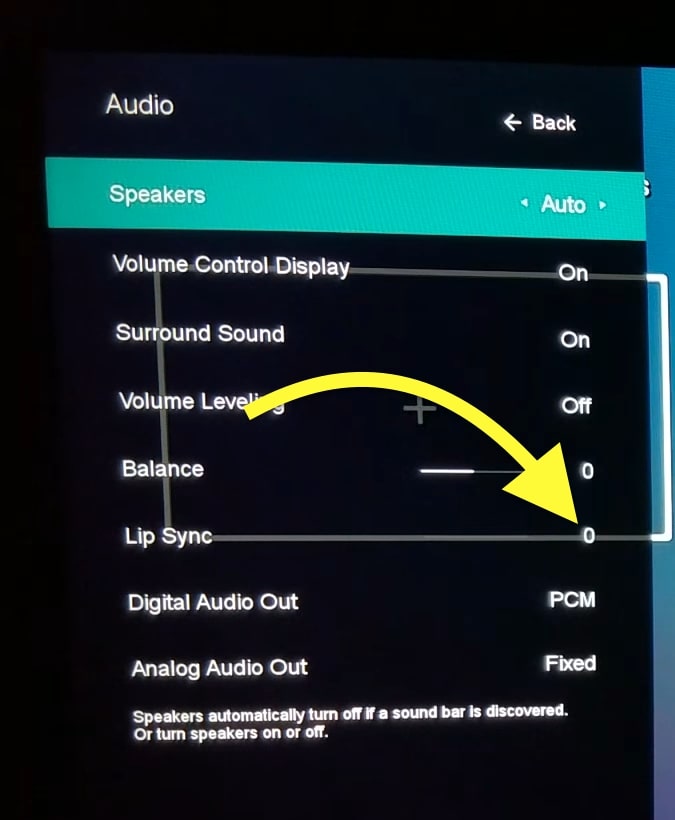 If the lip sync value was something other than zero before, then this should surely fix the audio delay problem in your Vizio TV.
Set Digital Audio Out To PCM
Another setting that you need to change to get rid of the audio delay problem on your Vizio TV is the Digital Audio Out option.
This is the audio output format for the audio devices connected to your TV.
This setting decides what audio output format should be configured for optical and HDMI ARC audio devices.
The only thing to do is to set digital audio out as PCM.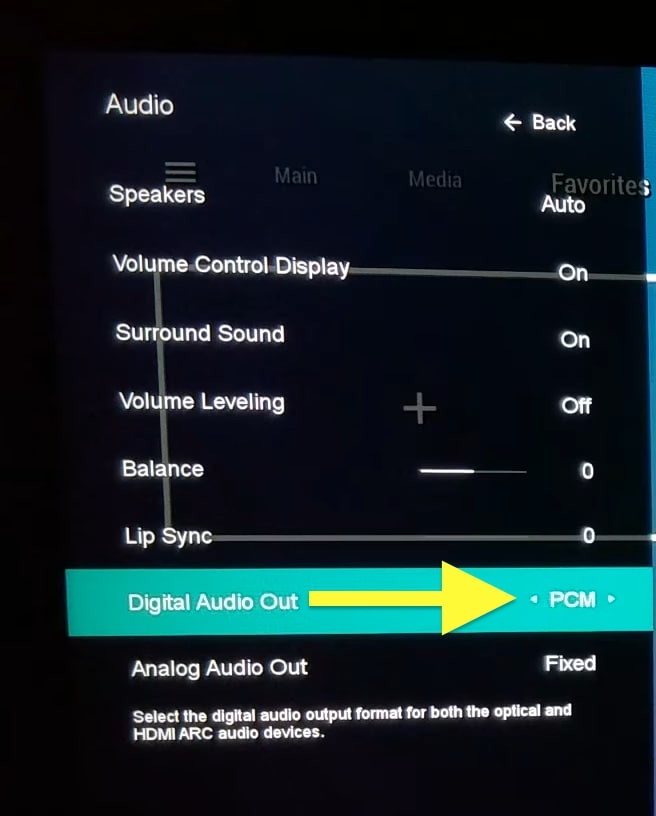 There are mainly four options here. The first one is auto, the second is PCM, the third is Dolby D, and finally, Bitstream.
Many people have managed to fix the delayed audio problem on the Vizio TV by changing Digital Audio Out from Auto to PCM or Dolby D.
If PCM didn't help you fix the problem, give Dolby D a try.
Change Picture Mode To Game
You might wonder what the picture setting has to do with the audio delay.
Even a tiny amount of audio delay is highly unacceptable for gamers, especially in battle royale games.
The Vizio TV game mode sets optimum gaming settings with a minute delay and no latency. This should be beneficial for us to get rid of the audio delay problem.
You can set the game mode under picture mode. Let's see how.
Open VIZIO TV Settings
Click the Picture option
Click on Picture Mode
Set it as Game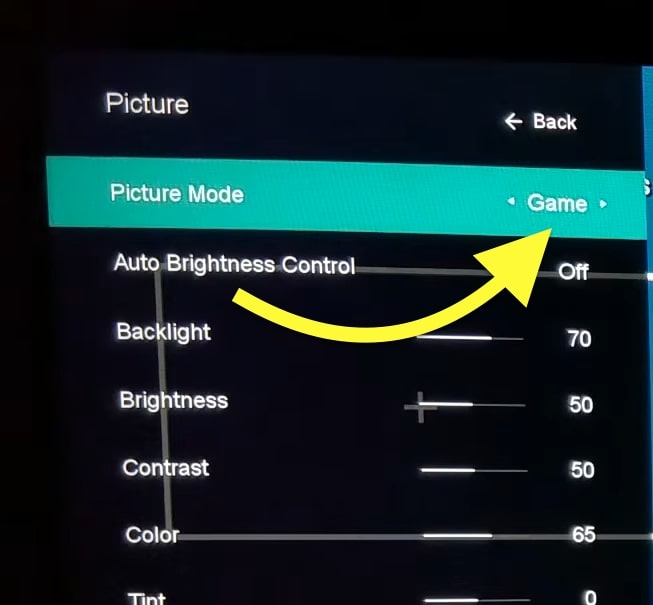 The game picture mode fine-tunes your TV for the best gaming experience, which includes little to no audio delay or lag.
Disable Digital Enhancer Settings
Vizio TV has several digital enhancer settings to improve sound quality and play low-volume content at reasonably high volume without any quality loss.
Leveling, surround sound, and dialogue enhancer is a few potions that come under digital enhancer settings.
All three options try to improve the sound on your Vizio TV. But they sometimes fail to work as expected, causing issues like unnecessary audio delay or lip-sync mismatch.
Disabling these options should help you eliminate the Vizio TV audio delay problem.
Follow the steps below to disable all digital enhancement settings on a Vizio TV.
Open the Vizio TV Menu using the remote
Select Audio settings
Find the Digital Enhancement Tab
Disable Dialogue enhancer
Disable Leveling
And finally, disable the Surround Sound option
Note that some older VIZIO TVs won't have this set of features. Check the Audio setting to see if your Vizio TV has digital enhancement settings.
Once these settings are toggled off, try playing some content and see if it fixes the problem.
Power Cycle Vizio TV
Above are all the settings you need to tweak to fix the sound delay problem on Vizio TVs. If none of them helped you get rid of it, power cycling is yet another thing to try.
Power cycling or soft resetting is a simple process in which we unplug the TV, let the residual power drain, and then turn it on again.
This should help us eliminate technical glitches causing sound delays on VIZIO TVs.
To power cycle your Vizio TV, follow the steps below.
Turn off and unplug your Vizio TV.
Press and hold the power button for 30 seconds to drain residual power. (Find Vizio TV power button)
Wait for a minute before turning on the TV.
Plug the TV back in and turn it on.
See if the sound delay problem disappeared.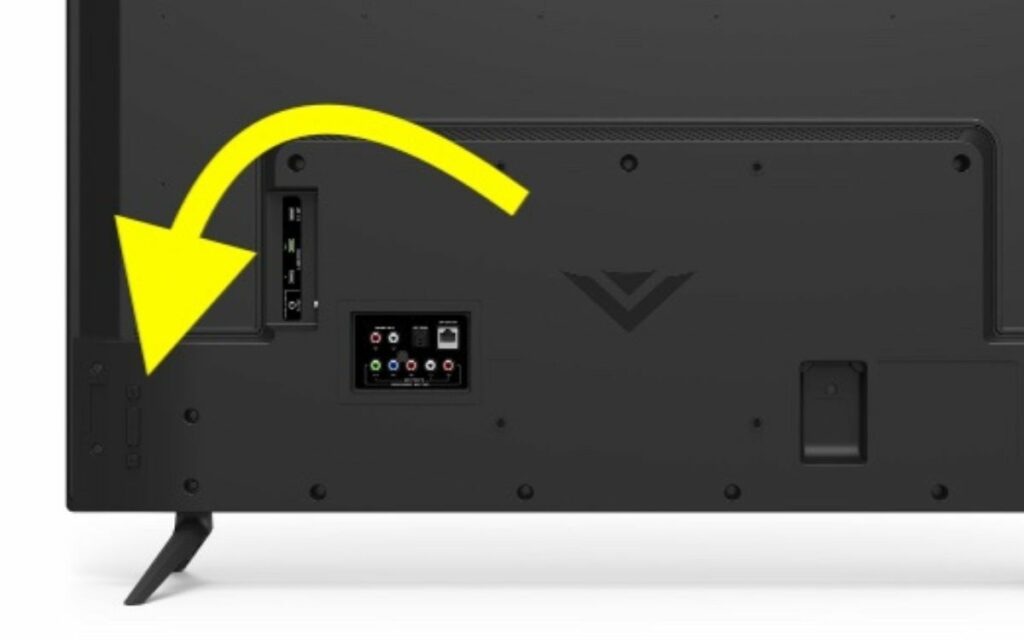 See If The Problem Is App Specific
The problem has not always be with you with your TV itself. The problem can be with the application, too.
Bugs or technical glitches on apps installed on a Vizio TV may cause issues like sound delay.
Before fixing the TV, you must ensure the problem is not application specific.
Open multiple other apps on your Vizio TV, play some content, and see if sound delay still exists.
If you only noticed the sound delay on one specific App, such as Netflix or YouTube, it might be an app-specific problem. See if an app update is available for the App.
Open your TV's App Store and search for the App. Click the Update button to update the App.
Or if you experience the same problem across all apps, then the issue is something with the TV.
Switch HDMI Port
Switching the HDMI port is something you need to do when a sound mismatch occurs on your Vizio TV.
If you are streaming content from a streaming device or set-top box, the content must reach the TV via the HDMI cable.
Problems with the HDMI port or faulty HDMI cable may cause issues like sound delay.
To see if the problem has something to do with the HDMI port or cable, you may connect the HDMI cable to a different HDMI port. Most new Vizio TV comes with multiple HDMI ports.
Similarly, replace the HDMI cable with another one and see if the issue persists.
Connect A Different Speaker
If your speaker is not working correctly, problems like sound delay can occur. If you have connected an external speaker to your Vizio TV, you may need to double-check to ensure it is working without any problem.
Most Vizio TV comes with built-in speakers, but people tend to connect external speakers to improve the sound quality and experience digital surroundings.
To see if the problem is with the speaker connected to your Vizio TV, start by removing the speaker and using the Vizio TV speaker to play some content.
If there is no delay when the sound is played through the Vizio TV inbuilt speaker, it means the issue is with the external speaker or soundbar.
You are also advised to use different aux cables to connect the sound bar or speaker to Vizio TV and check again. Sometimes, a faulty aux cable can be the reason why audio delay pops up.
Update Vizio TV Firmware
If your Vizio TV is running an older version of the firmware, it may be prone to bugs and technical glitches that may end up with many problems like sound delay.
It is always advised that you update and keep the Vizio TV up to date with the latest software.
Follow the steps below to update your Vizio TV to eliminate audio delay problem.
Press the Menu button on the remote
Go to Admin & Privacy > Check for Updates
Click Yes on the pop-up box that appears
Wait till it finds the newer version and updates the TV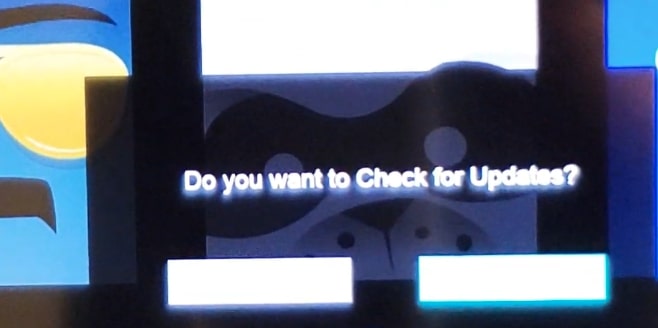 Do not turn off Vizio TV when the update is in progress. Make sure you have a power backup before starting the update process.
Factory Reset Your Vizio TV
The final thing to try used to factory reset your Vizio TV. It is a simple process in which we reset the TV to factory defaults.
Once reset, all the custom configurations and settings will be discarded. Your TV will be like how you unboxed it the first time.
To factory reset your Vizio TV, follow the steps below.
Press the Menu button on your Vizio TV Remote (If the Vizio TV Remote is not working, you may use the Vizio mobile app or buttons on the TV to open Settings.)
Navigate to Admin and Privacy
Click Reset to Factory Settings
Follow the on-screen instructions and wait for the reset process to complete.
Service Your Vizio TV
It's finally time to get in touch with a Vizio support specialist and take your Vizio TV to the nearest authorized service center to get it repaired.
So far, we have done everything in our control, including tweaking the audio settings. Even after trying everything, if you cannot fix the sound delay, then the problem might be something else.
You can use the contact details below to connect with a Vizio TV support specialist who will assist you with what to do next.
U.S. and Canada: 844-254-8087
Mexico: 844-324-5953
Monday – Friday, 8:00 AM – 11:00 PM CST
Saturday – Sunday, 9:00 AM – 8:00 PM CST
If the underlying problem has something to do with the internal components of the TV, then they need to be diagnosed by professionals.
Furthermore, you are advised not to open the TV as there are little to no parts you can repair. If your TV is still under warranty, opening it will tamper.
Claim VIZIO Warranty
If your TV is still under warranty period, then you may get your TV replaced or repaired for free of cost. Most Vizio TV comes with at least a year warranty.
If it's been less than a year since you bought the TV, it is still under warranty.
Check the TV invoice and confirm if your TV is still under warranty. If yes, take your TV to the nearest service center, and you should get it repaired or replaced for free.
Conclusion
Misconfigured audio settings, digital enhancement settings turned on, app-specific problems, outdated TV firmware, etc. are a few reasons people experience an audio delay on Vizio TVs.
Adjusting the audio setting itself fixes the problem in most cases.
Let's quickly go through what we did to fix the audio delay on a Vizio TV.
Disable digital enhancement settings
Adjust the lip sync option on Vizio TV
Update the TV firmware
Change the picture mode to Game
Factory reset the TV