Are you planning to get a Roku device or a TV with Roku built-in?
One of the most commonly asked questions about Roku is – does it have a monthly free or do you need to pay subscription charges?
In this article, I will explain if Roku has a monthly fee and all the costs of getting a Roku.
Is There A Monthly Fee For Roku?
There is no monthly fee for Roku. You only need to spend a one-time payment to purchase Roku and instantly get access to a ton of free content. If you plan to use other streaming services like Netflix, Disney Plus, Paramount, Prime Videos, etc., you must pay their respective subscription fee.
The cable TV era is almost gone, and people are switching to streaming devices like Roku, FireStick, Chromecast, etc.
Since many people pay a subscription fee for cable connection, many wonder if the same applies to streaming devices like Roku.
Well, the good news is that you do not need to pay a monthly fee for using Roku.
Roku is entirely free. You only need to spend the amount to buy the Roku itself, and after that, you don't need to pay anything to use Roku.
In short, Roku is a one-time investment. After buying Roku, you don't need to pay any subscription fee or monthly charges.
If you find a "Roku" charge on your statement, find out why Roku is charging you monthly.
This might leave you with a question as to how much does a Roku cost?
How Much Does A Roku Cost?
Depending on the type of Roku device, the price varies anywhere from $29 to upwards of $90.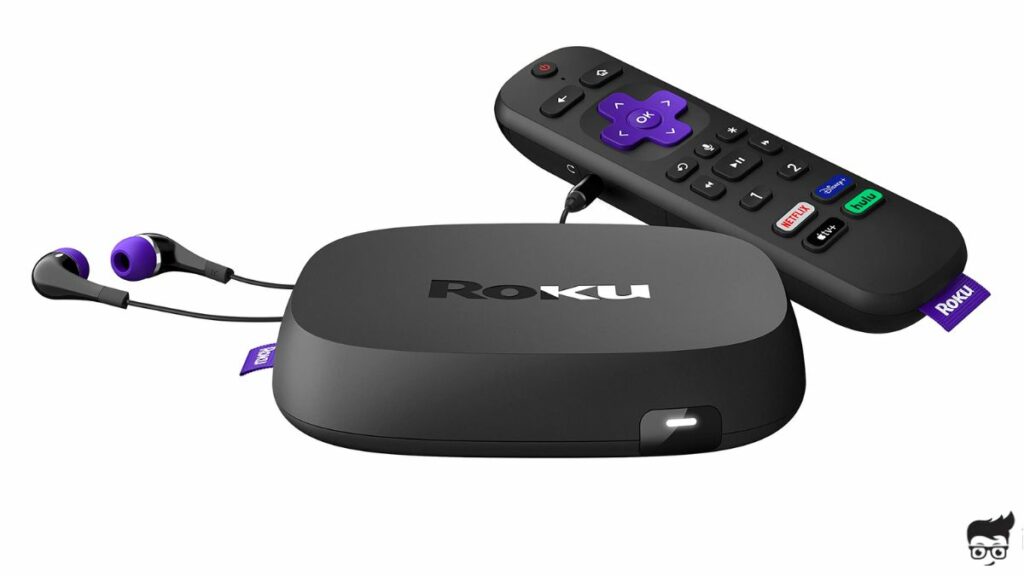 Besides buying a Roku streaming stick, you can also get a smart TV with Roku built-in. Many brands like Insignia, HiSense, Element, etc., have built-in TV models with Roku.
If you have an LG TV, you can still get on Roku on it.
Roku Express is the cheapest Roku you can buy. It starts at as low as $28.90. The only caveat here is that it can only stream content up to 1080p resolution.
If you have a 4K TV, your best bet would be to get Roku Express 4K. It is the cheapest Roku offering with 4K support and a Roku voice remote. It costs $39.9.
If you are looking for a portable Roku device, the Roku Streaming Stick+ is for you. Connect it to your TV HDMI port, and you are ready. You can even connect Roku sticks to non-smart TVs as well. It costs $44.99.
Roku Ultra is the feature-packed Roku with support for 4K, Dolby Vision/Atmos, super fast WiFi, hands-free remote control, and more. It costs $99.99
Does Roku Cost Money To Activate?
I keep getting asked whether Roku has an activation fee or charges of this kind.
Roku does not cost you any money to activate. Roku accounts are free to register and remain free forever.
You can activate your Roku and create a Roku account by heading to the registration page and entering your name, email, and password. It's as simple as that.
In short, you do not need to pay any money to activate or create a Roku account.
The Roku Channel
If there is no subscription fee or monthly charges, one may wonder how to watch free content on TV. The answer is the Roku channel.
Every Roku device you buy comes with a Roku channel by default.
It is a free, ad-supported channel from where you can enjoy a ton of free content.
Even though the Roku channel comes with a few paid subscriptions, the free content is more than enough.
The Roku channel comes with thousands of free TV shows, movies, and live-streaming TV channels.
After connecting your Roku to your TV, you can watch live TV channels like ABC News, NBC, and more.
If free content is insufficient, you can add Spectrum, YouTube TV, Hulu, Sling, Philo, and other paid subscriptions.
One key thing to remember is that even if you have a subscription to streaming services like Netflix already, you won't be able to use the same on your Roku device. You will have to pay for it via the Roku channel.
Types Of Roku Channels
Now let's look at the different types of Roku channels and what they offer.
Free Channels
First up, we have free channels. You get free access to films, TV shows, news, music, and more. All these channels are free to access and come free with Roku. Channels like ABC News, YouTube, etc, are included in this.
Rent Channels
Rent channels are used when you do not want to pay for a monthly subscription but access a TV show or movie on a one-time payment basis.
Subscription Channels
If you want access to more content, including TV shows and movies, than what Roku has to offer, you may opt to subscribe to any services like Netflix, etc.
Upon paying for the subscription, you'll get access to them via Roku. One thing to note is that even if you already have a subscription with any of the services, it won't work with Roku. You'll have to pay for it separately.
Why Am I Being Charged By Roku?
Did you receive a bill from Roku?
Many people only realize they have subscribed to a premium subscription or rented a movie or TV show until they get charged by Roku.
If you received a bill from Roku, it is probably because you may have signed up for a free trial and forgot to cancel it.
Roku gives free 7-day trial for various premium subscriptions, including STARZ, Showtime, Netflix, etc. If you forget to cancel the seven days trial, Roku will charge your card.
If you have already been charged, you won't get any refund.
To avoid getting charged in the future, right away, log into your Roku account and unsubscribe from whatever channel you subscribed.
If it was a rent payment for a movie or TV show, it would be a one-time charge.
How To View Roku Bill?
If you're unsure why you got charged by Roku in the first place, referring to the bill can help.
Your Roku bill will have all the information, including what subscription or movie/TV show rental you purchased.
Follow the steps below to see how to view your Roku purchase history or bill:
Open the web browser and go to my.roku.com.
Sign into your Roku account.
Click the view your purchase history option.
Switch between the content and products tab to see bill/invoices for various items.
Finally, click the details button for more information.
How To Cancel Roku Premium Subscription?
If you're wondering how to cancel a Roku premium subscription for a service like Netflix, Discovery Plus, AMC+, etc., follow the steps below.
Once you are on the home screen of Roku, scroll through services and select the app/service for which you want to cancel the subscription.
Now press the Star button on your Roku remote to open up options for that specific service.
Select the "Manage subscription" option.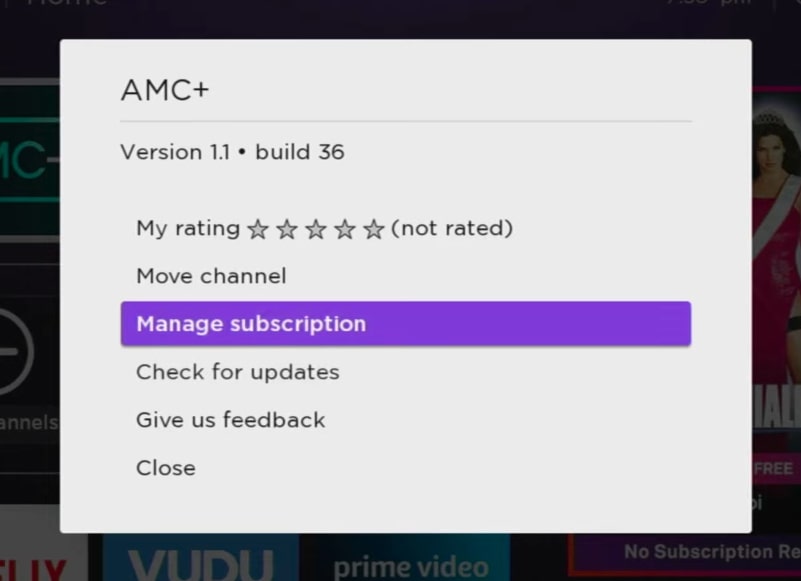 Select "Cancel subscription" option.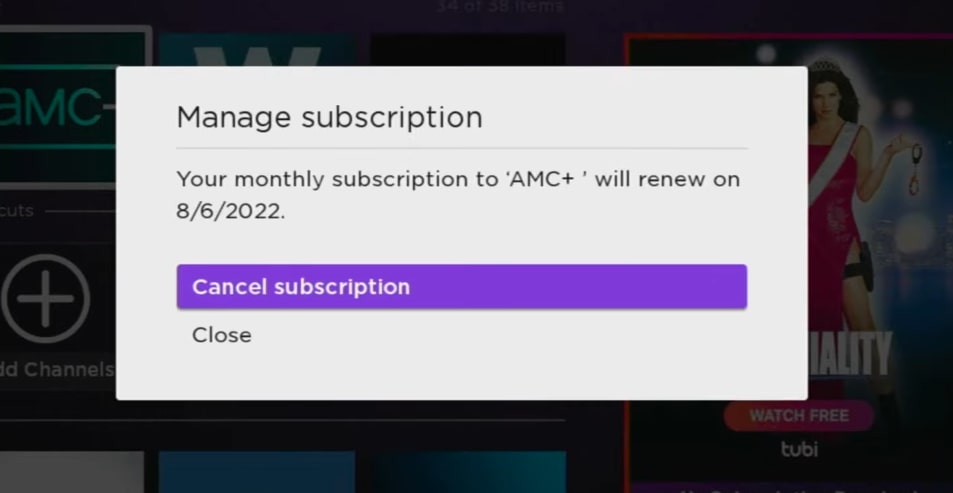 On the prompt that appears, select "Cancel subscription" again.
Once done, click "Done".
You have successfully canceled the subscription.
If you want to cancel subscriptions for multiple services on Roku, repeat the same steps above for other services as well.
Upon pressing the star button on your remote after selecting a service, if you can't find the manage subscription option, it means a premium subscription is not active.
If you plan give your Roku to someone else, make sure to change the Roku account.
Contact Roku Support
If you have more billing-related queries, you may contact the Roku support team for more insights.
For example, if your card was charged twice, more than the actual invoice, etc., please contact Roku support.
Head to the Roku Support page and click Account, payment & Subscriptions option.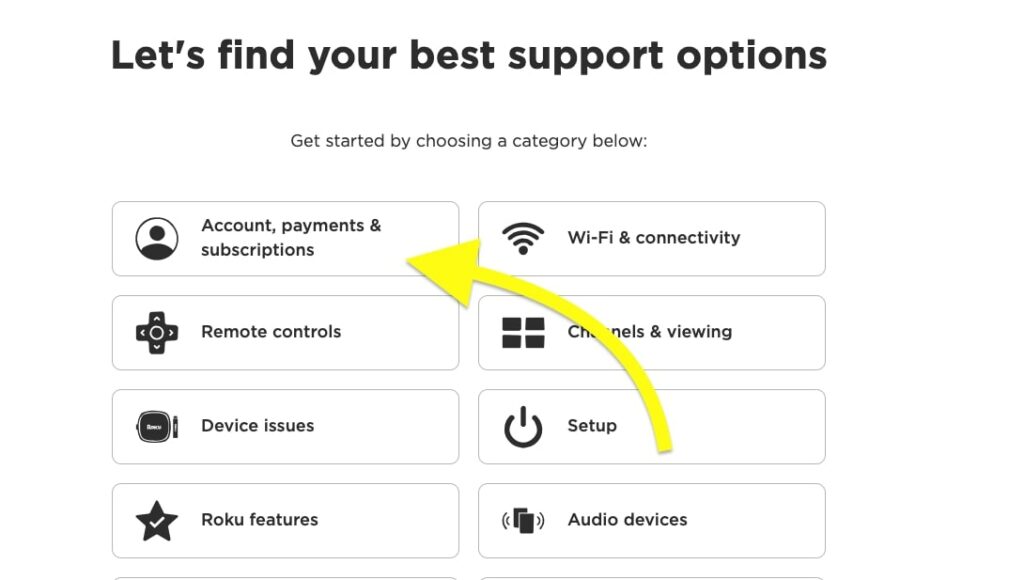 Sign in to your Roku account.
And follow the on-screen instructions to get in touch with a support executive.
What's Next?
So Roku does not have a monthly fee or subscription charge. You only need to spend the amount to buy the Roku device, and after that, you can enjoy all the free content without paying anything.
If you want access to additional content and services like Netflix, Paramount, etc., you may subscribe to respective services by paying a subscription fee.
But these are entirely optional and not mandatory.
Even if you already have an active subscription for any of the services, the same cannot be used on Roku. You will have to pay separately from Roku itself.
Another thing to note is that if you try a service for seven days in the free trial and you no longer need them, ensure you cancel before seven days; otherwise, Roku will charge your credit card for the same.