A Roomba is a fully automated robot vacuum with advanced capabilities like the ability to self-empty the cleaning base, automatic dirt disposal, completely clean carpet, and many more.
All the intelligent and advanced features that Roombas offers come at a price. Compared with other robot vacuum cleaners, Roomba is a bit on the expensive side.
So is a Roomba worth it, and should you get one? Well, the answer depends on the use case and how you plan to use it.
Let's look at the pros and cons of Roombas to conclude if it's worth getting one.
Should You Buy A Roomba Vaccum Robot?
A robot vacuum like the Roomba saves you a lot of time. If you were about to manually clean and mop the floor, it would take at least 20 to 30 minutes to clean a single room. Multiply it by the number of rooms you have in your home, and that's a lot of time you're wasting.
You may invest this time to do something worthwhile and productive. So it's an excellent choice to get a Roomba vacuum robot to automate cleaning the floor.
The Roombas have advanced features like automatic dirt disposal, base emptying, carpet detection, scheduled cleaning, and much more.
If you value your time more than anything and want a clean floor no matter what, then it is recommended that you get a Roomba.
Reasons To Buy A Roomba (Pros)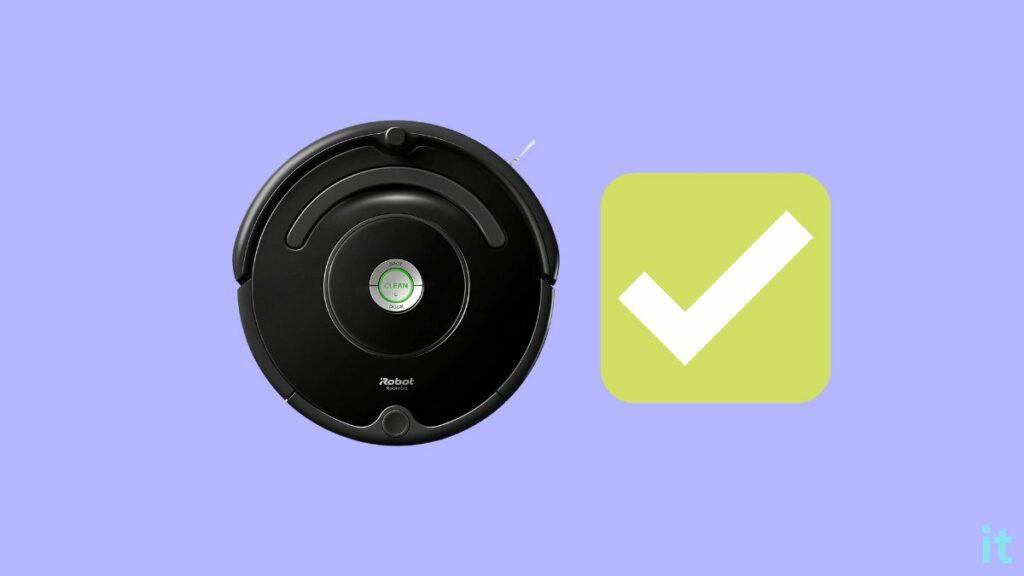 Below are many reasons you should buy a Roomba robot vacuum.
Many Roombas Are Fully Automated
One of the main reasons why people prefer getting a Roomba is that it is fully automated. During the setup process, it completely maps out all the floors and structure of the rooms, where the furniture is placed, and more.
You may set up a cleaning schedule, and Roomba will take it from there.
Below are some advantages that Roomba offers, making your life much easier.
Automatic cleaning base emptying
Docks automatically to the charger
Automatic dirt disposal
Powerful cleaning.
Automatically identifies obstacles and avoids bumping into them.
Roombas can vacuum and mop simultaneously.
Long story short, after you set up the Roomba, you can completely forget about it. Roomba will automatically clean the floor, and the rest is automated.
You Can Schedule Roomba To Clean
The ability to schedule cleaning is one thing I like a lot about Roomba.
For example, let's say you want to clean your living room at noon every alternating day. You may open the iRobot app and set up a schedule for a time of your choice. Roomba will clean the room according to the schedule.
I prefer setting a schedule afternoon when no one is at home. You may do the same, as the sound will be uncomfortable for many.
Roombas Can Self-Empty The Cleaning Base – Automatic Dirt Disposal
Many Roomba models, like the j7+, s9+, etc, come with an automatic self-emptying cleaning base.
If you were about to use a robot vacuum without the self-emptying feature, you would be required to empty the base whenever it gets full manually.
Since the Roombas have a docking station, it will find its way back to the dock and empty the cleaning base as soon as it gets filled.
Once the base is emptied, it will return to work and start vacuuming and mopping the floor again.
The automatic dirt disposal base can hold up to 30 robot bins of dirt, dust, and hair. This capacity will let the Romba work for weeks without your intervention.
Roombas Can Clean Any Floor
If your house has different types of flooring, you will find the Roombas extremely convenient. Roombas can easily handle and clean any floor. Whether it be hardwood flooring, carpet, epoxy, etc., Roombas can clean it all.
Back in the day, robot vacuums could not clean carpets or leave scratches and marks on hardwood flooring. But with Roombas, you can rest assured it can clean every type of flooring, including carpet and mat.
The flexible rubber brushes are softer than their old generation and do not scratch the floor.
Spot Cleaning
Newer generations of Roombas are capable of spot cleaning. Maybe, only a particular section of a room might have got messier or dirty. In this case, you don't want the robot vacuum to clean the entire room but just that one dirty spot.
You may open the app and instruct Roomba only to clean that particular spot. You can mark a specific spot in any room, and Roomba will clean it and return to the dock.
Spot cleaning is something I like a lot because it helps me clean any area of a room instantly without having to clean it manually.
The spot cleaning option helps you to use Roomba without WiFi, all thanks to the buttons on the top of the robot vacuum.
Furthermore, it also helps you save energy as you don't need to clean the entire room only to clean a particular section.
Pair Roomba With Braava To Mop The Floor
Newer generations of Roomba can both vacuum and mop the floor. It can even empty itself without you having to do anything.
But all the generations of Roomba can't pair with Braava to mop the floor. As soon as the Roomba is done vacuuming the floor, Braava may start to mop the floor to make it as shiny and fresh as new.
All you need to do is attach the Braava cleaning pad, add water and press the CLEAN button to start mopping.
If you can slightly increase the budget, you may go with the Roomba j7+ model with vacuuming, mopping, and emptying all in one system.
Reasons Not To Buy A Roomba (Cons)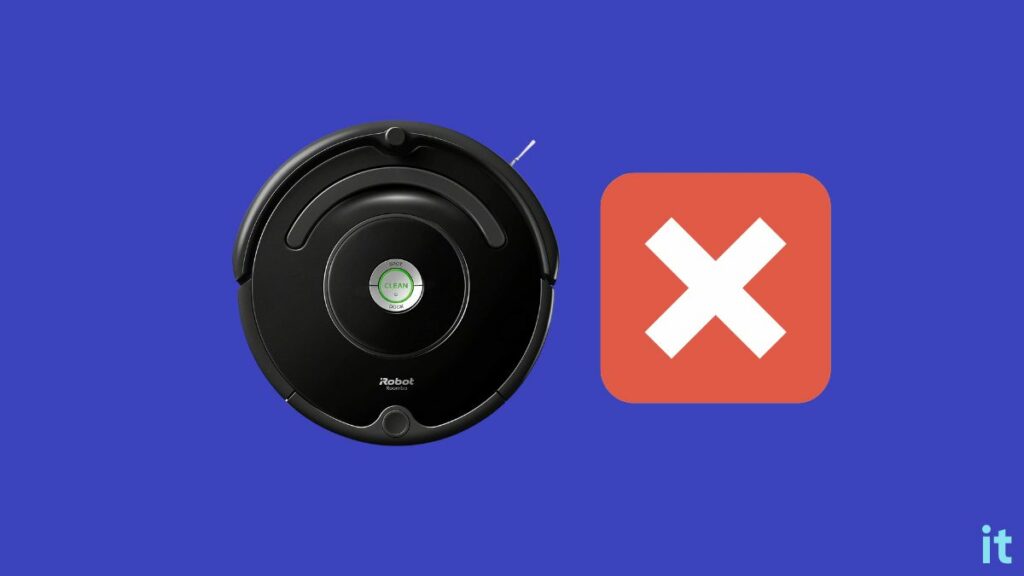 Now that you know all the pros and reasons why you should get a Roomba robot vacuum, let's take a look at some of the cons or reasons you shouldn't get one.
Roombas Are Not The Cheapest
iRobot manufactures some premium high-end robot vacuums with advanced features and capabilities like vacuuming, mopping, and self-emptying abilities.
Roomba robot vacuums are available from a starting price point of $200. But if you want features like automatic cleaning base emptying, dirt disposal, mopping, etc. then you should spend somewhere close to $800.
Compared with other robot vacuums, we can undoubtedly say Roombas are not the cheapest.
Roombas may be a bit pricey, but it is well worth it as it offers advanced features that make our life easier and less stressful.
Dust Bin Capacity Is Low
If you plan to get a Roomba robot vacuum without a self-emptying bin, you will have to manually empty the dustbin many times a week.
For small homes, you may get away with it. But if you have a large house with multiple rooms, you will find it very tiring to clean and reattach the dustbin to Roombas every time.
Roombas can hold anywhere between one to three cups of dirt. If your home is huge, I suggest you get a Roomba model with self-emptying bin.
Roombas with the self-emptying feature is more expensive than the others. You will need to shell out $600 or more to get a Roomba with self-emptying and dirt disposal feature.
Roombas Can Get Stuck
Like any other robot vacuum, Roomba can, too, get stuck from time to time.
The robot vacuum cleaner getting stuck underneath furniture and hard to get places are a nightmare to every robot vacuum owner.
You can set up a keep-out zone on the higher-end models of Roomba vacuums. You will need to get raised bumper guards for the cheaper ones without the keep-out-zone feature.
To avoid Roombas getting stuck underneath furniture, you may set up a keep-out zone or use furniture risers.
Roombas Can't Get Into Tight Spaces
Underneath the furniture and other low-lying areas are where dust particles accumulate. The primary intention of using a robot vacuum is to clean every inch of the floor without missing it.
But you have to accept the fact that Roombas cannot clean everywhere.
For example, Roombas won't be able to pass through low-lying furniture, making it unable to clean. In such cases, you will have to clean the area yourself manually.
Roombas Can Sometimes Get Lost
Roomba and any other robot vacuum work on battery. If the battery dies midway through cleaning, the Roombas will get lost and unable to return to the docking station for charging.
Many Roomba model comes with features where it will automatically return to the docking station as soon as the battery is about to die. But at times, it may not work that way, and Roomba can get lost.
If you have moved the furniture around or added new ones, Roombas may become confused at first. After mapping the recent changes in the floor layout, the Roombas should be good to go.
Roombas May Suck Things They Shouldn't
Like any other robot vacuum, Roombas, too, suck everything small enough to get through the nozzle.
You should be careful when you let Roombas roam around the room. Make sure there is nothing valuable on the floor.
Many Roomba units find difficulties sucking up long hairs. The long hair gets wrapped around the wheels on models with the wheels towards the front.
If tiny objects that can pass through the Roomba nozzle go in, it may make the robot vacuum faulty. So be careful about where Roomba goes and what it sucks in.
Which Roomba Should You Get?
By now, you must have already understood there are various Roomba models, anywhere from $200 to $1000 and above.
Now comes the big question – which Roomba is the best one you should get?
Depending on the budget and the features you need, below are some of the best Roomba robot vacuums you can buy:
For small homes: The Roomba 694 should be good enough for a small home. This is the cheapest Roomba robot vacuum and costs somewhere around $200. This model supports self-charging, too.
For medium homes: The Roomba i3 is suited for medium size homes. It works well with pet care carpets and hard floors.
For large homes: iRobot Roomba i3+ EVO is a robot vacuum with automatic dirt disposal and advanced mapping, and ideal for pet hair. This model of the Roomba starts at $399
If you are looking for the absolute top-of-the-line Roomba along with the Braava for features like vacuuming, mopping, automatic dirt disposal, and more, you should get the Roomba j7+ with Braava.
What Next?
Now that you know the pros and cons of the Roomba smart robot vacuum, get a Roomba model suitable for your home and budget.
The Roomba 694 and Roomba i3 should be suitable for small and medium-sized homes. Roomba J7+ and i3 EVO are the ones you should get if you want absolute top-notch features.
Similarly, if you want to automate the entire floor cleaning tasks, including mopping, pair a Braava with Roomba, and you should never think of cleaning the floor ever again.