Is your Alexa randomly playing music? It becomes even worse when Alexa plays music at night.
Many people have reported their Amazon Alexa-enabled smart home devices like Echo Dot, Show, Studio, etc, playing music randomly without any initiation.
There are a couple of reasons why Alexa randomly plays music. This article explains everything you need to do to fix the problem quickly.
Like other smart home-enabled voice assistant gadgets, Alexa is also prone to issues like this. Alexa not responding, playing songs without asking, Alexa talking randomly, etc. are a few common problems.
Alexa Laughing Randomly
Alexa laughing at night is yet another problem reported by many Alexa smart home device owners.
Out of the blue, Alexa makes some creepy laughing noise. Without any prompt, Alexa laughs, and that, too, in a weird way. Several people woke up at midnight due to this.
Amazon took it as a severe concern and released fixes for the problem immediately.
Amazon disabled the phrase "Alexa, laugh" and changed it to "Alexa, can you laugh". This has solved the problem.
Fix Alexa Randomly Playing Music
Alexa is randomly playing music because you have enabled an Alexa routine. Open the Alexa app, tap the hamburger menu > Settings, and tap Routines. Disable the Routine that plays music on Alexa. Disabling the routine should stop Alexa from playing songs automatically.
Disable Alexa Routine
Disabling an Alexa routine responsible for playing music in most cases should help you fix the problem.
You may have knowingly or unknowingly set up an Alexa routine to play music based on some conditions.
An Alexa routine is a process that repeats itself on a specified condition. Maybe you have set an Alexa routine to play music at a particular time, after a word is said, etc.
Follow the steps below to disable Alexa routine to stop Alexa from playing music randomly.
Open the Alexa app on your smartphone.
Tap the hamburger menu icon from the top left corner of the screen.
Tap Settings.
Select Routines.
If you have set up multiple routines, go through them one by one and select a Routine that is responsible for playing music
Tap the Disable button to turn off the Routine.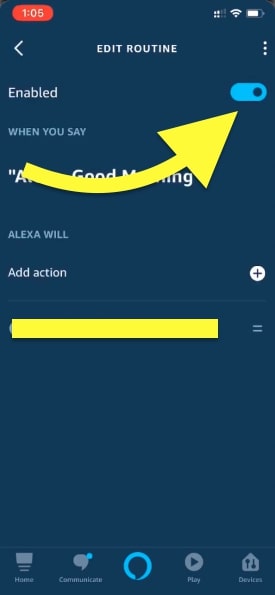 Since the Routine is now turned off, Alexa will no longer play music randomly.
Disconnect Other Devices
If you have not set up any routines on your Alexa device, then chances are the music is being played from someone else's device.
Maybe your family member's or your neighbor's device is connected to your Alexa echo or other Alexa devices.
If this is the case, the other person can play music on your Alexa since their devices are already connected.
Follow the steps below to unpair Bluetooth devices from your Alexa app.
Open the Alexa app on the smartphone.
Tap the Devices option.
Select Echo and Alexa.
Select your particular Alexa device that is playing music randomly.
Tap Bluetooth devices.
Go through the list of paired devices and find the devices that are not yours and tap on them.
Tap Forget Device option.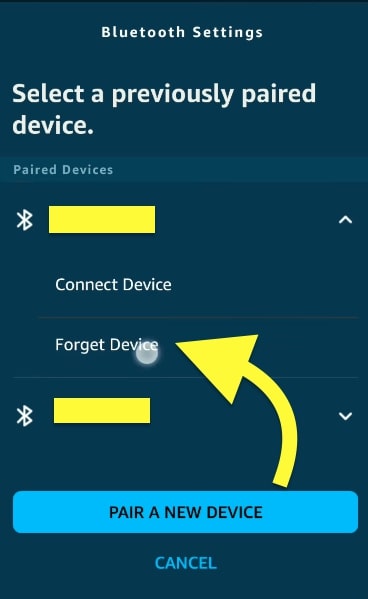 Repeat the same steps for all other devices that you don't recognize or no longer need.
Logout From Shared Devices
Do you know if Alexa is playing music from any particular app like Spotify, YT Music, etc.?
If you have shared your account password with others, they might be playing the music at the same time you're connected to your Alexa.
To fix the problem, all you need to do is open the particular music streaming app and go to the devices section. You should find an option to log out from all devices or from devices you don't recognize.
Many people have solved this problem by unlinking devices they don't recognize.
Similarly, it is also recommended that you reset the password of that particular music streaming service, as a data breach might compromise it.
Factory Reset Alexa
Factory resetting your Alexa is the last thing to do if nothing helps you stop Alexa from playing music automatically.
Factory resetting Alexa will erase all the data, including linked accounts, saved WiFi credentials, and more. You will have to set up your Alexa from scratch once reset.
To factory reset your Alexa device, follow the steps below.
Open the Amazon Alexa app on your smartphone.
Tap Devices.
Tap Echo and Alexa.
Select the Alexa device that you want to reset.
Tap Factory Reset.
A prompt may appear asking you to confirm your action. Tap Yes.
Wait for some time and let Alexa reset.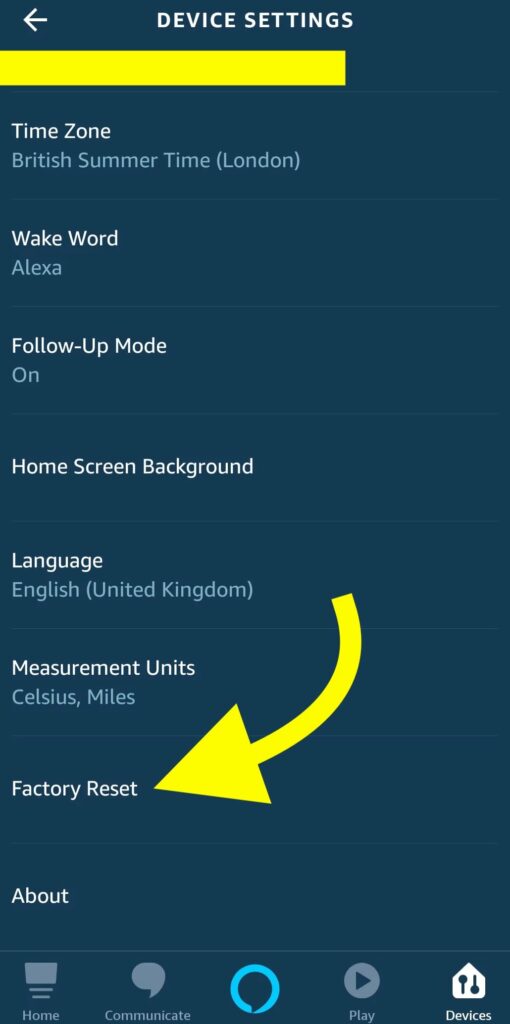 Once reset, Alexa should directly go into pairing mode.
Open the Alexa app again, add Alexa to your Amazon account, and pair it again.
Factory resetting has helped many people fix many problems like Alexa not responding to stop commands, spinning blue light, and not being able to turn on the TV anymore.
Contact Alexa Support
Even after following all the methods above, if Alexa is playing music randomly, it's time to get in touch with Alexa support.
You may visit the Alexa support center and follow the options below to request a phone call or chat with an Alexa executive.
Visit the Alexa support center.
Select Kindle, fire, or Alexa device.
Select Echo and Alexa-enabled Amazon devices.
Tap Device not working/damaged.
Tap I need more help.
Now you will be presented with two options to contact Alexa support – Request a phone call or Chat with us.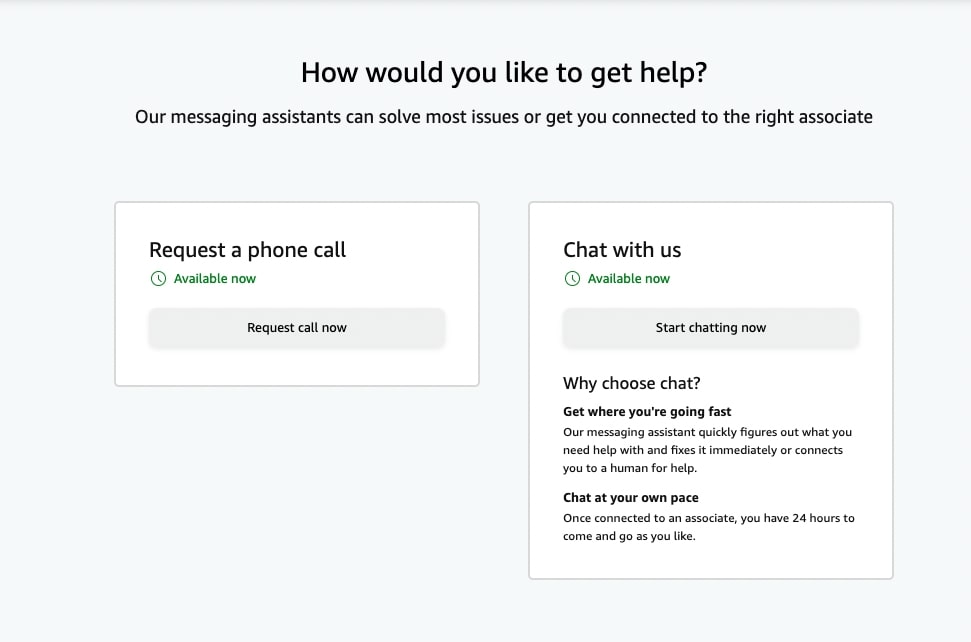 Select your preferred option and explain the problem.
Click here to see how to disable the annoying Bluetooth connection announcement by Alexa.
FAQ
Why is my Alexa playing music in the middle of the night?
Alexa randomly plays music at midnight because the Routine to play music at a specified time is enabled. You must open the Amazon Alexa app on your smartphone and disable the Routine responsible for playing the music at night. Resetting Alexa should also help you get rid of the problem.
Can Alexa talk without being prompted?
Alexa has a feature called conversation mode. One can enable conversation mode on Alexa by saying "Alexa, join the conversation". Once the conversation mode is enabled, you can start talking to Alexa without saying the wake word. So yeah, it is possible for Alexa to speak without being prompted.
Why does Alexa Laughs at the night?
A bug was recently discovered on Alexa where it laughs at night without any prompt. Many people woke up at midnight because of this. Amazon addressed this issue seriously and released a fix to solve the problem. Amazon changed "Alexa, laugh" to "Alexa, can you laugh".